Breast Cancer Care WA
For over 15 years, Breast Cancer Care WA has been providing personalised emotional, practical and financial support to the many Western Australians affected by breast cancer.
The team of experienced breast care nurses and counsellors work holistically to create tailored solutions to the challenges faced by each individual, including family and friends supporting someone diagnosed with breast cancer.
The breast care nurses play a vital role in providing emotional support and information throughout the breast cancer journey and help women interpret their test results, make informed decisions about their treatment and what lifestyle modifications they could make to decrease and manage the disruption to their lives.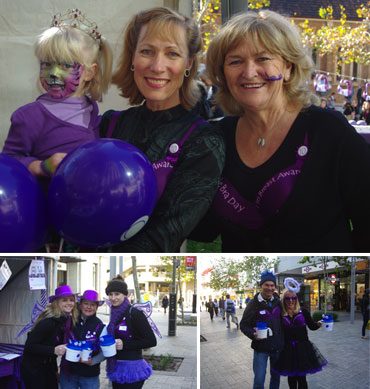 The counsellors provide emotional support and coping strategies one on one and also offer couples counselling and family therapy to help families cope during this often stressful time.
Breast Cancer Care WA also run a range of breast cancer specific support groups and peer support programs and often they are the only place for people to turn to for financial assistance for gaps in medical treatment expenses, travel and accommodation expenses for those travelling to Perth for treatment, general household bills, rent or mortgage assistance and even money to put fuel in the car and food on the table.
They also have a practical assistance program which supports women with basic living needs following surgery and during treatment including transport to and from appointments, help with looking after children, shopping, cleaning and gardening.
Breast Cancer Care WA also places a strong emphasis on educating the community to be breast aware and leads the way in Indigenous breast cancer education and support.
Breast Cancer Care WA is staffed by a team of professional women from a variety of backgrounds, each of whom shares a common passion for making a difference in the Western Australian community. They are also supported by a band of incredibly passionate and dedicated volunteers, many of whom have personally benefited from the services Breast Cancer Care WA provides and now want to give back to their community.
The breast care nurses play a vital role in providing emotional support and information
These inspiring people form a small but active charity, which directly helps a great many Western Australians and their families cope with day-to-day life following a diagnosis of breast cancer.
Fundraising is the lifeline of Breast Cancer Care WA as although the support this remarkable organisation provides is both real and effective, it receives no recurrent government funding.
As an independent charity, the level of personalised care provided would not be possible without the support of the WA community, who in conjunction with their own fundraising efforts, enable Breast Cancer Care WA to provide all of their support services free of charge.
It is estimated that 1470 Western Australian women will be diagnosed with breast cancer in 2013 and one in eight Australian women will be diagnosed in their lifetime.
With the incidence of breast cancer on the increase, we hope you will consider supporting Breast Cancer Care WA so that they may continue to make a difference in our community.
For more information on Breast Cancer Care WA, please visit www.breastcancer.org.au.

A word from Breast Cancer Care WA CEO Zoe McAlpine
Breast Cancer Care WA is a Western Australian charity that provides support through breast care nurses, counsellors and financial assistance to people affected by breast cancer. With over 1,500 women expected to be diagnosed with breast cancer in 2017 in WA alone, the need for our services continues to grow.
Each story is unique, and each diagnosis is different. Our services are personalised and cater to the individual's needs. We have a dedicated team who work to ensure that our clients receive the best possible care, and take the utmost pride in knowing that we can make a difference in the life of an individual affected by breast cancer.
Our Breast Care Nurses who work closely with clients to help them through all facets of their diagnosis. They assist with the interpretation of test results, making informed decisions about treatment options, and lifestyle approaches to help manage the disruption a diagnosis of breast cancer brings. Our Nurses provide support in person, over the phone and by email, as well as home and hospital visits within the metropolitan area.
Our Counsellors offer further support through support groups, workshops and therapy groups, tailored to stages of the disease and specific groups of individuals. They also work one on one with clients to help manage the emotional impacts of their diagnosis and how to best overcome the challenges they face.
A diagnosis of breast cancer impacts all aspects of life and Breast Cancer Care WA provides practical support, from transportation to and from appointments to babysitting and gardening services. We can also offer financial support, including assistance with rent, school fees or simply putting food on the table.
The 14 years of support from adultshop.com's Boobalicious Ball has been integral in our ability to provide and grow these support services for the WA community. In 2016 alone this helped us support over 1,000 families affected by breast cancer. We were also able to start three new specialised support groups and run a series of resilience and art therapy workshops.
The Boobalicious Ball is a unique and glamorous event that allows us to give the WA community an insight into the positive impact we can all make to the lives of people affected by breast cancer.
Our heartfelt thanks to the team at adultshop.com for their phenomenal efforts to help Breast Cancer Care WA provide our vital services. Your support makes an incredible difference.
Zoe McAlpine, Chief Executive Officer
Breast Cancer Care WA